Low volume , kayak omly creek run located in Peru´s northern Cajamarca region. A tributary of the Huancabamba, this steeper creek is runnable with prolonged periods of rain.
We hit this run in the heart of the rain season in Feb 2014 only to find a paltry flow of 100 CFS due to lack of recent rain.
To reach the river go to km 147 on the Chiclayo-Tarapoto highway (KM are noted on road posts with zero being at town of Olmos and growing as one travels down the Huancabamba Chamaya drainage towards the Marañon). Here there is a bridge called Puente Chicle and a small town at 720 meters elevation…This is a logical takeout and to reach the put in head upstream on single lane paved road on river left. The river is roadside so put in where ever you want. The bigger the flow the better (ideally over 300  CFS) with a  high put in being some 37 km upstream. Average gradient is 31 m/km throughout run.
Due to low flows we put in only 7 km upstream at 835 meters for a one hour run averaging only 15 m/km. We reached the Chiple bridge and continued boating on down the Huancabamba another 24 km and took out one km below Puente Chamaya 2 near town of Zonanga at 565 meters elevation with GPS coordinates   5°53'31.87″S,  78°49'52.52″W. The 24 km stretch on the Huancabamba Chamaya was totally different. big water feel with several thousand CFS and lots of class 3-4 rapids including one that we scouted.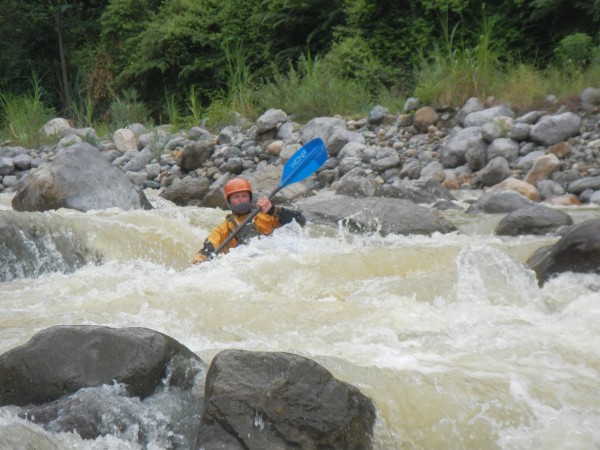 Greg Schwindinger 
Other nearby rivers include Chinchipe, Uctubamba, Chunchuco, Chotano, Amojú, Chorinos, Huancabamba, Tabanaconas
Note: dams are being built on Huancabamba. Flows on Callayuc should not be affected but the main branch of the Huancabamba will have different flows in future so modify your plans accordingly.