The Pumacanchis River is a short and steep section of river in the Cuzco region draining a lake into the Vilcanota River.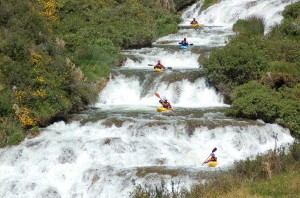 This classic foto was taken on the first descent of Pumacanchis on July 5, 2007
To reach the river from Cuzco follow the paved road to Urcos 47 KM away. From here it is approximately 40 km to Puente Chucicahuana. (Bridge over river on turn to Acomayo). Here the elevation is approximately 3450 meters. Follow the road for 3 km to the river's exit at Laguna Pomacanchi. This is the put-in.
The first 1 KM is basically flatwater then the bottom falls out with the river dropping 260 meters in a little over 2 km or roughly 650 feet per mile.  The travertine ledges make the run feasible even with the extreme gradient. One particularly burly drop is at the bridge which crosses the river about 500 meters up from the Vilcanota.
You need a good rainstorm to get this river flowing. The logical takeout is the confluence with the Vilcanota River, however,  an attractive option is to continue downstream on the Vilcanota. There is a description of this river on the site as well with takeout options.