The Rio Cotahausi is one of the premier kayak/raft trips in Peru. Its officially recorded depth is 163 meters greater than the Colca making it the deepest canyon on Earth. The added spectacle of cloudless skies, hot springs, pre-Inca ruins, Quechua speaking locals and thundering class 5 whitewater makes this trip the gem of the South American Andes. The river starts it descent at the 17,960 foot peak of Cerro Supramarca.
Access is relatively easy via a 12 hour bus ride from Arequipa (try Virgen de Chapi from central terminal in Arequipa). The journey takes one up to the Altiplano at 16,000 feet and past the smoldering crater of Sabancaya, and the massive peaks of Corapuna and Solimana. As the road descends off the Altiplano to the town of Cotahausi it will pass Umahuarco or the "the place of execution". Be sure to ask the driver to point out this interesting pocket carved into the face of the cliff. Here the Inca bound their prisoners by the wrists and neck until circling condors descended onto their prey. After the passage of centuries of time it is amazing that sun-bleached human bones still litter the base of the cliff.
The town of Cotahausi is a beautiful Andean Pueblo with stone streets and white-washed adobe buildings and cathedrals built by the Spanish. Local residents move around principally on foot, horseback, burro or mule.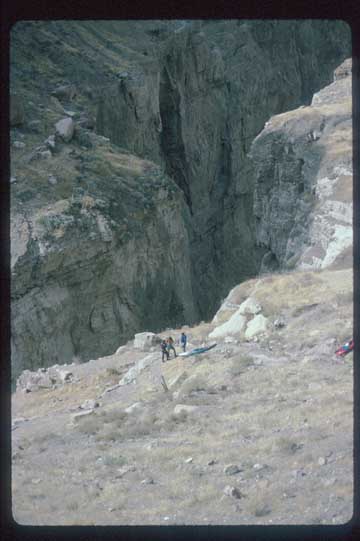 Scouting the Aimaña gorge prior to first descent
The ideal time to run the river is from mid May to mid June when flows exceed 1000 CFS although I have heard of recent trips running the river at extremely bony levels into late November. The crystal clear water is snow melt and cold throughout the year. Bring a fly rod as whopper trout live below Sipia.
The river is comprised of four distinct sections. The first section is called the headwaters and it lies up stream of the town of Cotahuasi. The second section is the Aimaña gorge, the third is Flatwater Canyon, and the fourth is the lower canyon. The Cotahausi has become one of the most sought after commercial raft trips in South America. Commercial trips skip the first three sections of the river and miss out on five days or 88.5 KM of white-knuckle whitewater with a total drop of 1825 meters (over 6000 feet)
A description of each section follows:
Headwaters
A new road provides access to this class 3-5 section of river whose put in is 71.5 Km above the town of Cotahausi at the village of Chulea (elevation 3525 meters) which we will call KM 0. The gradient of the headwaters section is as follows:
Chulea to Huacctapa 6 km 4 m/km
Huacctapa to Antabamba 27.5 km 25.5 m/km
Antabamba to Alca 20 km 5 m/km
Alca to Puente Coyota 16 km 14 m/km takeout 2525 meters
A nice thing to do is stop and soak at the local hot springs called "Termas de Alca" which are on river right just below the town of Alca. Even if you do not run this section of river a side trip from the town of Cotahuasi can easily be arranged.
Aimaña Gorge
The second section of the river begins about 3-road kms above the town of Cotahausi at Puente Coyota. This 10 KM stretch ends at the spectacular 150-meter waterfall called Sipia. (a mandatory portage!!!!!) The upper Aimaña gorge is 2.25 km of class 5 whitewater dropping at 34 m/km. When you come under the swinging bridge called Chapito it is time to get out on the right and scramble up the scree slope to a road some 200 meters above and portage (on a dirt road) about 1 km. You do this to avoid approx 300 meter stretch of viscous liquid that was accidentally run without injury at extremely low flows. The hike back into the canyon is on a hard to find trail. Once at river level the die hards in the group can hike alongside the river back up to the exit of the un-runnable section. Here begins the more difficult lower Aimaña Gorge. From here it is 5 km until the canyon walls open up. The gradient is a stomping 45 m/km and includes several huge rapids, the most notable being "Mungi" which is found where the river horseshoes to the left. Once the walls taper down the river relaxes for a short while on the approach to Puente Ullao. From Puente Ullao to the next bridge Puente Sipia is a radical ¾ km stretch with the huge drops of "Harry Peludo" and Cheloc Cahuita". From Puente Sipia it is non stop action to Cataracta de Sipia 2 km downstream. This class 5+ stretch drops up to 70 m/km and has been run on several occasions without portaging. The last big drop is called "Saltos de Diablo" and lies 100 m upstream of the 500′ waterfall.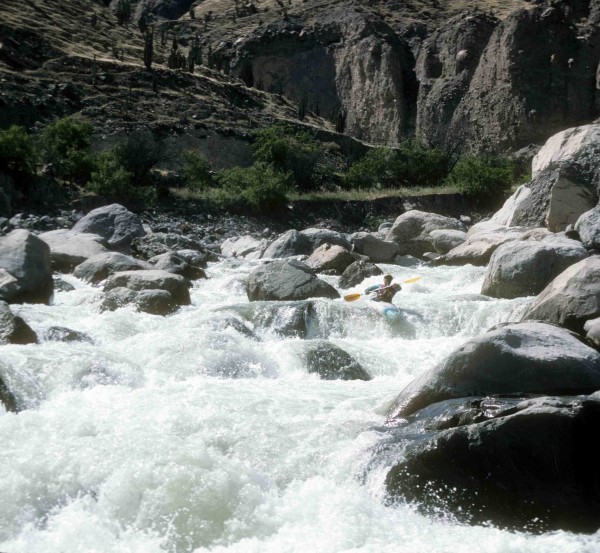 Gian Marco Velutino above the 500´Sipia falls
After spending some time at the falls of Sipia it is time for what will be for most people the most spectacular portage of their life. Preferably burro or mules have been arranged in advance to help haul boats thousands of feet up the mountainside and down the other side to the Pampa of Chaupo. Most people elect to use Don Rene Urquizo whose casita is located a few hundred meters upstream of Sipia. Along the animal trail you will pass through a tunnel through the rock face and may find yourself at eye level with soaring Andean Condors. From the Pampa of Chaupo boats and gear must be carried by hand down a steep trail to the river below. The first part of the portage with animals will take a minimum of four hours and the latter part by hand an additional hour.There is an alternative put-in which arrives at the absolute base of the falls at an obscure gully called "Huanca Huacana" (Quechua for place where stolen cattle are slaughtered). This put-in is an intense adventure involving rappelling and frequent rock falls and is not recommended.
The Commercial trips do not put in at Huanca Huacana or Chaupo but instead continue on the trail to the village of Velinga some 6 km further downstream.
Flatwater Canyon
The reward for putting in at Chaupo is an awesome 1-1/2 km class 5 stretch dropping 57 m/km called "flatwater canyon". The first rapid is formed by a massive mud flow and is called "Barro Rojo". Below this radical stretch is 3-1/2 km of additional good class 3-4 whitewater dropping at 29 m/km. This section ends below the village of Velinga (elevation 1750 meters). Look carefully for the concrete lined hot springs on river left hidden within a patch of bamboo. It as at this point that commercial trips begin their journeys.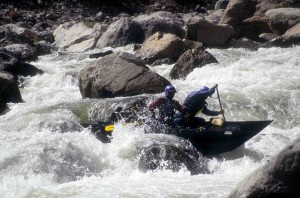 Shreddin´in the Flatwater canyon
Lower Canyon
At 1750 meters the canyon has very pleasant temperatures and a climate completely different from town of Cotahuasi. Avocado, orange, and papaya trees can be found in the villages nestled high up on the canyon rim. The geology begins to change from the limestone walls and sediment canyons found in the upper stretches to metamorphic and granite canyons.
From Velinga it is 6 km to the swinging bridge below the town of Quechualla. Here the average gradient is 22.5 m/km but there is significantly more in a tight little canyon stretch just below Velinga called "Broken Neck Canyon". From the swinging bridge it is 12.5 km and 265 meters of elevation drop to Campimento Minero (21.2 m/km), an abandoned mining camp with good camping. Before reaching this point you will pass the ruins of Toccecc or river right. This is another good place to camp and to explore the ruins.
The next stretch of river contains several class five sections including "cable dancer", "meter canyon", "centimeter canyon", and necktie canyon". The 9 km stretch begins at 1300 meters and ends at 1040 for average drop of 28.8 m/km. this section of river is full of ruins. It is easy to get caught up in the whitewater and forget to look around. If you take the time to get out of you boat and do several hikes you will encounter the ruins of the lost city of Marpa whose terraced fields, amphitheaters, burial sites (Chulpas), can be found right up to and through meter canyon. On some of your scouts you will standing in ancient terraces that due to the arid climate are better preserved than those of Machu Pichu. I like to camp at a beautiful beach on the right at a place called Maccintyra (just a name on the map as there is no people in canyon). You know you are there as there is a view of huge basalt plug just downstream. Sunsets here are spectacular as is the fishing.
Kiwi Mike Savory boating thru the ancient terraced ruins of Marpa in Meter Canyon
From Maccintyra it is some 15 km to the confluence with the Maran. Along the way there are is continuous class three and wherever it gorges up class 4. With the added juice of the Maran the river takes on a new character. Big, fun, roller coaster waves in a open canyon lead to the town of Chaucalla which sits 100 meters above the river at the confluence with Rio Chichas entering on left. Chuacalla is an interesting place to check out. Extremely dry it is well known for its local wine. The town is built of dry adobe blocks and all the homes have chiles drying on the roofs. From here elevation 700 meters to Iquipe (elevation 440 meters) is 26 km of class 3 whitewater. In Iquipe there is access to a new road to the coast.
An option is to continue boating the remaining 70 km to the ocean. Although the water moves a strong headwind and the cold coastal fog called Garua make the journey arduous. It is, however, a rewarding feeling to know you have paddled 240 km and dropped 11,650 feet from snow capped peaks to Pacific Ocean. Upon reaching Puente Ocoña at the ocean or when leaving Iquipe, make your way to town of Camana. From here there is regular bus service to Arequipa.
This page is still under construction.
Further information is available at http://web.cocc.edu/fhelfenstein/riocotahuasi/
Lower Canyon Trip Report – August 2011
Here is a trip write up that maybe helpful for people who want to organize and do their own Cotahuasi Canyon Trip.
We took six days on our canyon trip and started August 1rst 2011 by Fields Marshall, Christian Polar and Carlos Vizcarra owner of Arequipa Hostal Solar (a helpful resource if you are planning your own self support kayaking trip in Arequipa. )
The flow was average for this time of year – It would be called a medium flow. We had a group of conservative (and experienced) kayakers and we took our time. I personally didn't run any class 5 opting to portage because of the remote nature of the canyon nonetheless the river started off strong and didn't slow down for 5 days until we reached the Maran river confluence. Once we were in the Canyon weather was dry and warm ( very nice ) until we reached the Maran Confluence where cold up river winds started increasing blowing very strong in the evening.
Bugs were not a problem if you had some DEET / repellent. That is to say there were bugs but if you put some repellent on then you did not notice them.
Anyways read on below and check out the photos.
Day 1 – Cotahuasi – Bus to Velinga – The Put In
The night before we took a bus from Arequipa and arrived at the town of Cotahuasi at 3 am. We then camped out and waited for the bus to Velinga. We took the bus to Velinga and actually got off a few KMs before Velinga in a very small town called Barranquillos spelling ?
This road was created in 2010 before this date you would of had to hire a mule team from the town of Cotahuasi to the river. We did hire a mule team to carry our boats 100 meters or so but this was more of an effort to support the local economy than anything else.
We entered the river at about 11am after lunch and packing our boats and paddle some class 3 and 4 rapids about 6 kms in total down to the rapid known as "The Wall" near the very small town of Quechualla
[nggallery id=1]
Day 2 – Quechualla to Tochuecc Ruins
Day 2 of our Cotahuasi river trips started out at 10 am in the morning. Christian ran the wall rapid near Quechualla and we continued our way down stopping for lunch. We had one portage Class 5 rapid before lunch and then continued down in total about 8 kms camping just below the Ruins of Tochuecc.
[nggallery id=2]
Day 3 – Tochuecc Ruins to Centimeter Canyon Rapids
Day 3 was the day of big rapids from what we had read most of the action started on this day so we got up early at 6:30 and we hit the water by about 8:00 am or so. Right away we came to Marpa ruins / rapids. The more conservative element of the group – myself and Carlos Vizcarra portaged the rapid while Christian Polar ran it without issues.
After Marpa ruins/ the river slowly canyoned up forming the rapid known as Meter. In early August with medium flows their appeared to be one dangerous rapid so instead of running this rapid. We all choose to do the mother of all portages about 2 hours (not that much time wise but with the hot Peruvian sun beating down ) we were left exhausted. If you look at the photos you will see me going to be very early that night 5pm or so.
Despite all the adrenalin and the hot sun. This place of Incan ruins and steep cliff was undeniably beautiful and with the warm winds and cool water an ideal climate also.
After lunch and our intense portage we camped at another well known rapid called Centimeter.
[nggallery id=3]
Day 4 – Centimeter to High Side For Your Life
After a long night's sleep and with our boats getting lighter we rallied a bit less early hitting the water at about 9:30 am or so .. A portage or two lay ahead with the notable portage being right around noon. Carlos got overheated as I did the day before but I had picked up a lesson from the previous day and immediately jumped into the water to cool off before walking a long distance in the hot sun. We cruised down and made camp right above the rapid known as High Side for your Life – typically known as the biggest rapid on this stretch of the lower canyon. While it looked big – it did not appear to be as consequential as other rapids we had portaged.
[nggallery id=4]
Day 5 – High Side For Your Life to Maran Confluence
I started off the day portaging High Side For Your Life but Christian ran it and proved that it was indeed forgiving 🙂 We continued down scouting and portaging 1 more time until we reached the confluence with the Maran river. Here the river added more volume and the gradient slowed down.
We camped about 12 KMs away from the town of Iquipi on a beach. Up until this point the weather had been perfect but I was unprepared for the strong cold wind that blew up from the ocean. I had not brought any cold weather gear and getting warm was a challenge. The wind was strongest at about 4pm and then died down by 9 pm.
[nggallery id=5]
Day 6 – Maran Confluence to Iquipi
As mentioned we camped about 12 KMs away from the town of Iquipi on a beach. In the morning kayaked down class 2/3 rapids avoiding shrimp catching traps until we arrived at Iquipi. We had a GPS to help us find Iquipi but it would have been fine without one. We started seeing more and more civilization as we approached Iquipi.
We had a celebratory lunch in Iquipi and then we took a bus to an unknown and illegal mining town called Secocha. Due to the high price of gold this town was full of new cars and due to the fact that people were illegal mining ( They had no rights to the land) it was a highly toxic and dilapidated. $3000 blocks of stone were being mined for gold mercury was being buried in the ground and there was a menacing and lawless aspect to all of the inhabtants.
We immediately left Seococha and paid for a private car to Camana. From Camana we got another private car(mostly because we arrived late) to Arequipa where the trip started.
[nggallery id=6]
Cotahuasi River Video Documentary by Christian Polar