In September of 2006 Gian Marco Vellutino and Diego Valsecchi set out to run what has within a year become a Peruvian classic
They started their journey in Mollepata where they hired porters. The route they followed is the new "alternative" to the heavily used  traditional Inca Trail. The route traverses up through spectacular country and past the base of Salcantay a spectacular 6264 meter (20,671 feet) peak. The journey was so impressive that Gian Marco has purchased land at the takeout where the river joins the Urrubamba. Soon trekkers of the Machupichu circuit will be able to complete their last day of descent in rafts.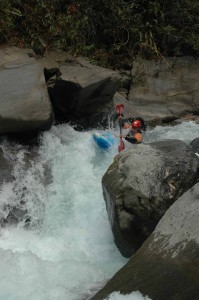 Diego Valsechi on Santa Teresa
The put-in for the river is where the Quebrada and Rio Tortora joins the Santa Teresa. The elevation at this point is 2750 meters above sea level. The takeout is 23 KM downstream at 1500 meter. The river drops an incredible 1250 meters in 23 KM for average of 54.5 meters per KM or 275 FPM.
The run from the upper stretch takes 2 days and starts out with a day of beautiful class 4. The second day steps up in intensity with at least two portages.
The boys estimate the flow at takeout of 800 CFS and feel the season will be June-early November.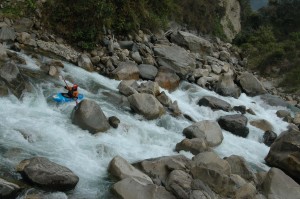 Typical rapid on Santa Teresa
Nearby rivers include the Vilcabamba, Urrubamba, Lucomayo, and Ocobamba. The river is on the way back to Cuzco for those returning from 7 day Paucartambo trip.A road reaches the takeout from the direction of Quillabamba. From Cuzco one takes road to Ollantaytambo in Sacred Valley then up and over pass on recently paved road towards Quillabamba. When the road reaches the Urrubamba you need to cross bridge and turn upstream, cross over Vilcabamba and continue approx 20 KM upstream to town of Santa Teresa.
Most people attempting to run this river are encouraged to start from the takeout and hike upstream. Animals and/or porters should be available locally to help with gear.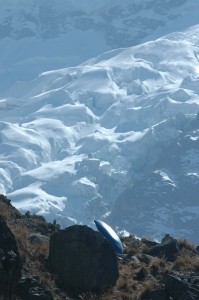 Hiking in to the Santa Teresa beside the mighty Salcantay 6264 meters (20,671 feet)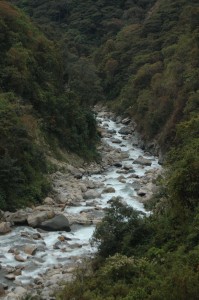 Looking down the Santa Teresa Valley
Gian Marco who curently has an adventure travel company in arequipa might even be willing to guide you and/or help with logistics. For additional info see link to Cusipata.
Click here for a topo map – MACHUPICHU.PDF 1.47 MB

Topo maps are in Adobe PDF format, you will need Adobe Acrobat Reader to view.
CLICK HERE to download a free copy.