The Huncabamba is a good multi day river in Northern Peru flowing out of the Sierra de Guamani in the state of Cajamarca. Two diversion dams are under construction which will forever alter the flow of this drainage but some sections may periodically have water so a description has been included.
The river starts in the rainy headwaters near town of Huancabamba and flows into an arid canyon eventually reaching the Marañon river 196 km downstream. Elevation at Huancambamba town put-in is 1950 km with GPS coordinates  5°14'5.74″S,  79°27'10.04″W. Our trip during rainy season in Feb 2014 started with a minimal flow of around 350 CFS and finished just below Puente Chamaya 2 at 550 meters near town of Zonanga. The stretch we ran in four days was 171 km and dropped   1400 meters for average gradient of 8.2 m/km. Flow at takeout was in 5000 CFS range.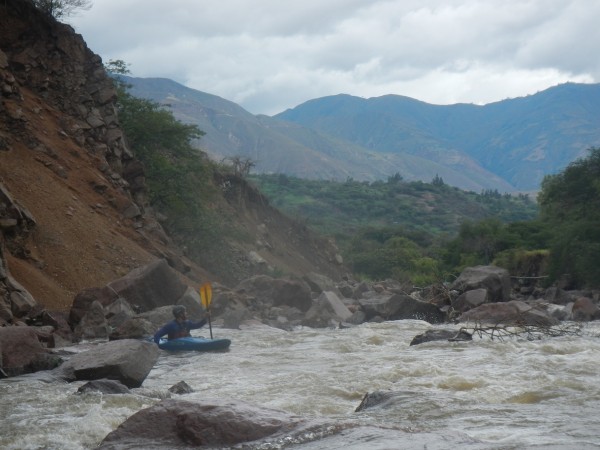 Josh boat scouting day 1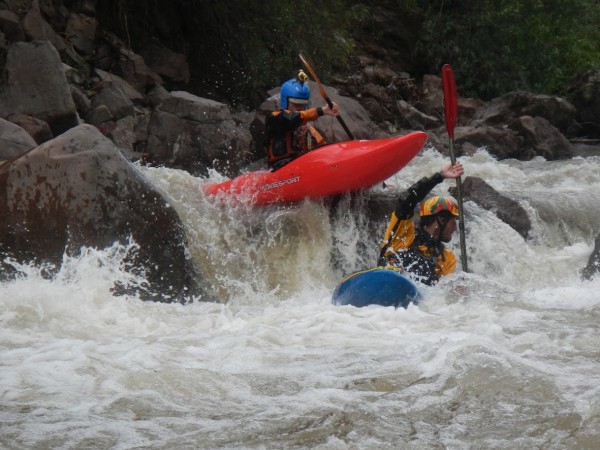 Rocky and Lorenzo in land slide rapid
The river at town of Huancabamba was both scrappy and dirty. An alternative suggestion is to put in at a bridge below town of Sondor which is approximately 10 km downstream of Huancabamba town. Putting in here eliminates a portage but also will miss the class 5- landslide rapid.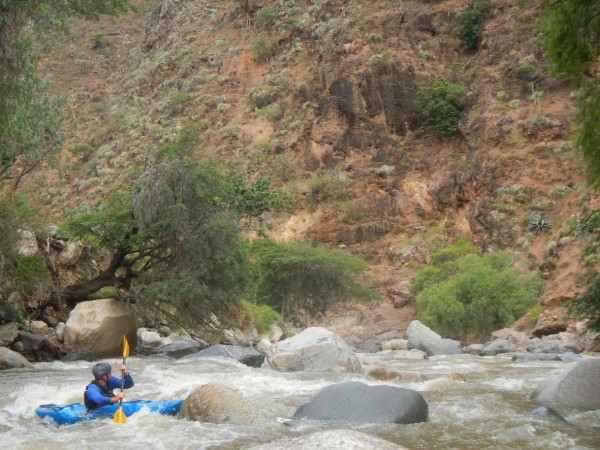 Josh day 2 action

To reach the put in from town of Jaén it is easiest via a hired van. The drive, which although is not far distance-wise, takes a solid 8 hours plus. Leaving Jaén go north towards San Ignacio and upon reaching the Tabaconas River turn left in town of Tamborapa and drive up the Tabaconas river for about 6 hours to Huancabamba-Sondor. We put in at at place called La Perla which was a bridge crossing in main town.
Villagers along the river 
The takeout zone has lots of traffic and if one continues an additional 9 km downstream from  Zonanga to Chamaya there is lots of vehile traffic and it is only 17 km back to Jaén.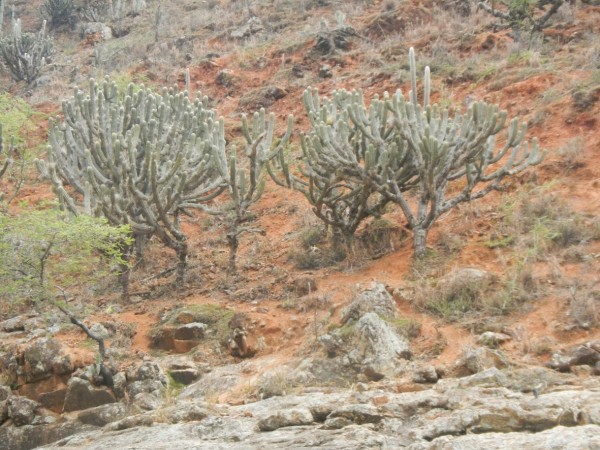 Entering the arid canyon
The first day below Huancabamba town is steep and low volume. We had one portage of a steep constricted rapid below a vehicle bridge below town of Sondor. Soon after that the character of the canyon changed dramitically to a dry arid landscape.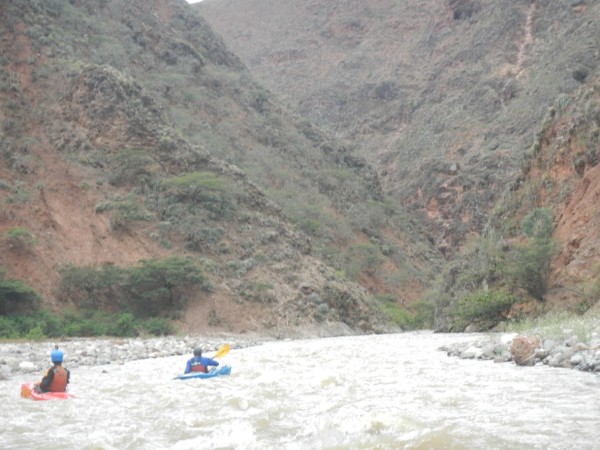 Typical mellow section day 2
Day  two starts with a  bang and then gets pretty mellow with a occasional bigger rapids formed where massive mudslides had at one time entered the river.
The 70 km stretch below the put in are mostly roadless but at town of Tambo the river leaves the canyon and passes under the Chiclayo-Tarapoto highway.About halfway through we came to damm site and were told in future half the river´s flow will leave at this point through a tunnel and be sent to city of Piura.
From the town of Tambo onwards a paved road parallels the river but often times can not be seen. 15 km below Tambo is  another dam called Presa Limon and is part of Olmos water project. Here an 18 km tunnel will flow to eastern side of mountains and deliver upwards of 60 CMS of irrigation water to the coastal communities around Chiclayo after first passing through a  hydroelectric project. What water if any that will remain in the river after this second dam is unclear at this time. 38 km below the dam the Rio Chotano enters from south pumping up the flow and 24 additional  km downstream  the small Rio Callayuc enters also from the south. (see Callayuc river description for steep creek option).  Some 18 km below where Callayuc river enters the larger Rio Chunchuco enters clear from the North a few km´s upstream of Puente Chamaya 2. The Chunchuco river is what Rocky Contos describes as the South American north Fork of Payette (see his soon to be added river description)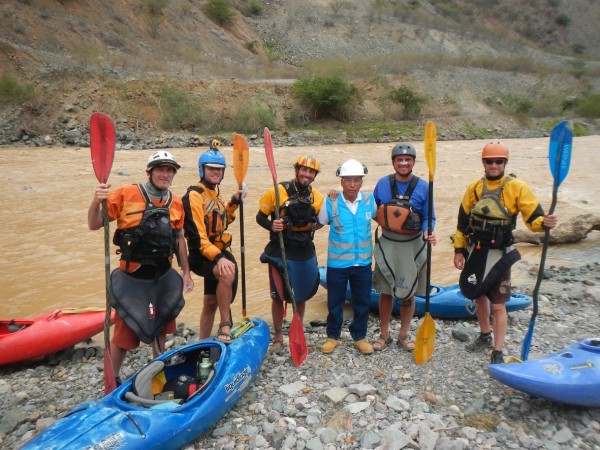 Group shot with dam worker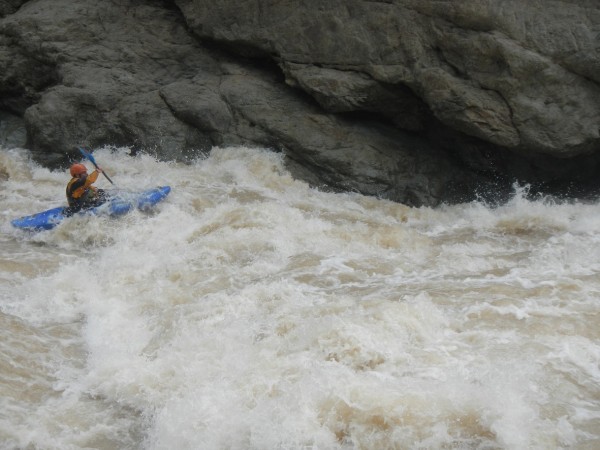 Greg on final day
The 50 km stretch above Puente Chamaya 2 has lots of big pushy class 4 whitewater and hopefully will continue to be boatable after both dams start to siphon off flow tarting in July 2014.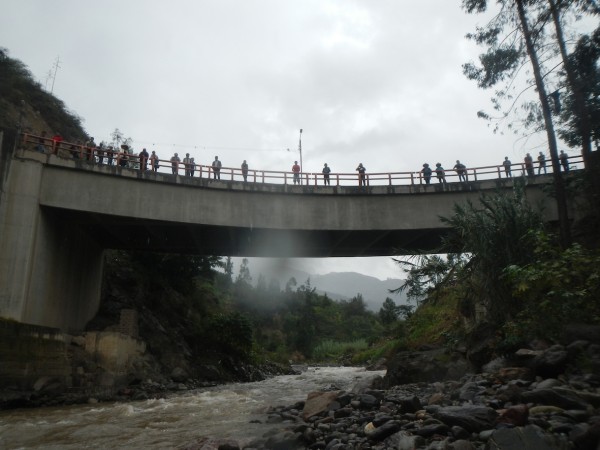 Bridge near the put in
 Other nearby rivers include Chinchipe, Tabanaconas, Chorinos, Amojú, Callayuc, Chunchuco, Chotano