A trip down the Huallabamba is a whitewater odyssey into the depths of Peru's remote high jungle rainforest. The river starts in the Department of Amazonas and passes through the Department of San Martin on its way to the confluence with the Río Huallaga. The 160 km journey can be run in kayaks in 5-6 days.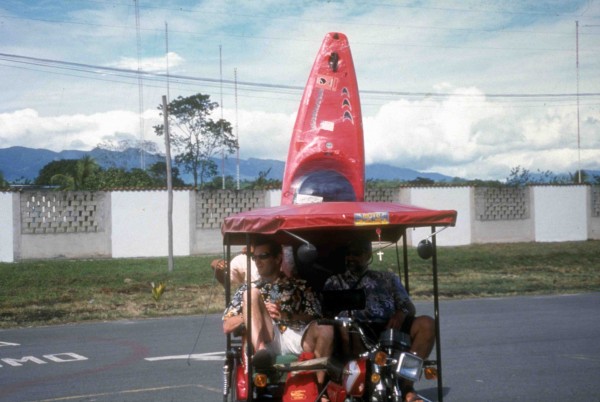 Kurt and Franz motorcycle shuttle from Tarapoto airport 1998
In late June of 1998 I hooked up with my buddies John Foss and Franz Helfenstein in Tarpoto to attempt a first descent. We figured it was easy to fly to Tarapoto and from there it would be easy to reach the put in. Luckily for us, upon reaching Tarapoto we met an expatriate named, Al Twiss who operates a rafting company called Los Chancas Expediciones on the nearby Mayo River. Al had previously gone upstream by dugout motorized canoe into the lower stretches of the river and was therefore aware of the region we would pass through upon exiting the canyon. He also knew the geography of the put in region around Chacapoyas and was able to get us on the correct bus for the journey to the put in. The bus we traveled on climbed up the Mayo valley, passed the town of Moyobamba, crossed the continental divide into the Marañon watershed and eventually dumped us in Pedro Ruiz at the turnoff to Chacapoyas. Arriving in the evening we hired a pick up truck to get our gear and us to Chacapoyas where we spent the evening.
The next day we left our boats in the Hotel Amazonas and set off on a side trip to visit the ruins of Kuelap. A collectivo leaves several times a day and travels up the Utcubamba River valley. We got of at Tingo and spent the next several hours walking up the mountain to find a camp near the incredible ruins in Kuelap. The next day we visited the unforgettable ruins and returned by foot to Tingo and then back to Chacapoyas by collectivo. The following morning we found a driver to take our gear and us on the 4-hour trip to Rodriguez de Mendoza. Upon reachine Mendoza we checked into the only hotel whose name is "Altiplano". At dinner that evening we learned that there is regularly scheduled transportation from Lima to Mendoza via a 36 hour bus, which compared to our four day approach, is much more palatable.
Shuttle ride to put in 1998, Driver, Franz, Kurt, John
We knew we were close to the river, which the locals interchangeably call both Huambo and Guambo, but were unsure of the best way of getting there. The whole town seemed to appear at once to help us decide and a heated discussion soon followed with everyone claiming to know the best way to get there. Most plans lacked any type of details and all involved hours of walking to a reach the river. The walking scenario with heavy boats was one I wanted to avoid at all costs and for this reason a soft-spoken midget caught our attention when he started speaking of the valley and began to draw a map in the dirt of all the tributaries that flow into the Guambo and the villages that were nearby. The midget had been as far as anyone can possibly walk into the jungle- a place he called Luz de Oriente. His idea was that we drive to Puente Gevil and begin our journey on the Río Huamanpata, which would lead us into the Guambo, which eventual changes names to the Huallabamba. The midget was even able to describe the volume of the river, which to us sounded optimal.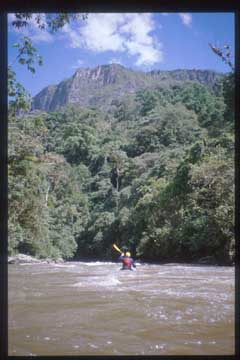 John Foss heading into Jungle
Heeding the midget's advice, the next day we organized a 3-hour ride to Puente Gevil, which lies a few km's beyond the pleasant village of Omia. The road from Mendoza to Puente Gevil follows the Leyvia River, which looked a little too bony to run. We reached the bridge by the town of Gevil and put in on a tributary called the Río Huamanpata, which had 600 CFS of cold, brown water. After only one km the river grew to 1100 CFS with water flowing in from the Rio Leyvia. The river immediately enters a canyon and for the next 2 hours provides mostly class 4/4+ continuous steep-creeking. The vertical canyon walls range in height from 50 meters to 350 meters. The rock appears to be limestone but is obscured by dense growth and flowering vines. After two fun hours an extremely dangerous, unrunnable, 10-meter waterfall/sieve appears quickly and unexpectedly with a very small must-make eddy. The left side appears to be the logical portage route but a quick reconnaissance reveals impassable jungle with slime covered vertical walls that make portaging on this side out of the question. The right side is a two-hour grunt over slime-covered boulders. At four o'clock this section of canyon is completely shaded so finding a camp just below the portage was a mandatory proposition. The day was 6 km of boating with a drop of 125 meters for an average of just 21 m/km.
Day 2
One hour after leaving camp in the morning the walls of the canyon taper off to reveal the cultivated fields of Achamal. It is also here that the 1 KM long ultra-continuous, super-fun, class 4-5 rapid began that we called "Rumble in the Jungle". We met some of the residents of the hamlet of Achamal and were shocked to see they all had blonde hair and blue eyes. Before leaving Mendoza we were told that many pockets of gringos can be found living deep in the high jungle and as they have been residents for generations, many consider them to be the descendents of the once dominant Chacapoya People. Forty-five minutes below Achamal the Legia Chica River enters and after 3 more hours of boating the Rio Verde (elevation 825 meters) enters doubling the flow with its emerald green waters. En route to this point were dozens of class 3-4 rapids, usually found in micro limestone canyons at bends in the river. Two km below the confluence is a huge, boulder choked class 5+/6 rapid that we portaged on river right. At the bottom of this 3500 CFS maelstrom we found a small beach to camp on with a freshwater stream, firewood, sun, and great views of the cliffs alongside the river. This day of boating was 27 KM with a total drop of 425 meters. Along the way we saw blue morpho butterflies, kingfishers, Oro Pendulas, and one Kuadi Mundi (raccoon like critter)
Day 3
The river starts out big and fairly wide open and remains so up to where the Mashiaco River enters with its green waters on river left. Here the volume picks up, as does the action with lots of inner gorges. The river then changes character to more pool-drop type rapids. When two Tepui (jungle covered cone type peaks) appear on river left it signals the entrance to Culebra Canyon, which contains three distinct rapids. Franz and I made the mistake of running the first without scouting and then had to wait in an eddy in the middle of the river for an hour while John, who wisely eddied out upstream, bashed his way through the thick jungle to scout the next rapid (which turned out to be only class 4 but from the boat it looked like class 6). From the mouth of Culebra Canyon the river stayed in a narrow slot until an un-named river cascaded into the Guambo carrying 1000 CFS. Big water continued with a subterranean River entering from a cave on river right. Late in the day, just before we reached a major valley entering on river right, we found a camp a few meters above the river on a plateau rock. Since no topo maps were available for this region in 1998 we had to guess at the distances we were traveling and the gradients. Authors note: In 1999 a declassified map of this section became available from the Instituto Geographica Militar. The map 14-I called Huayabamba costs 105 soles versus the normal 17 soles and is kept in a separate folder in a separate room. On this third day we estimated a 25 km stretch with an average drop of 8 m/km and a volume at the end of the day of 8000 CFS. Throughout the day we saw millions of brightly colored butterflies. Every 100 meters we seemed to pass a beach where there appeared to be a particular species of butterfly distinct from those on the beaches close by. We also saw two Macaws, a turkey like bird with a red head, and a falcon.
Scouting a big drop on the huallabamba
Day 4

At four o'clock in the morning it started to rain. John and I were not sleeping in tents so we quickly stuffed our gear into dry bags and worked furiously to stoke up the fire. (author's suggestion is bring a stove and a tent). We ate at 6:00 AM and with the first light came a swarm of 1000's of bees. John, Franz and I all scurried to our boats and we each quickly stuffed our gear inside while bees covered our bodies. Although they were not stinging, we were freaking out with every inch of our bodies covered by bees. John and Franz got into their boats and pushed off. Unlike the other guys I was paddling in a short top and short pants. When I jumped into my boat and headed into the first rapid the first of many bees trapped under my spray skirt started to sting. The pain was vicious and the feeling of crawling insects all over my legs was horrible, but after looking over my shoulder at the swarm following us, there was no way I was going to stop. At 7:30 AM, after 1-1/2 hours of furious boating, the last of the bees chasing us disappeared. At this point we arrived at a landslide, which housed the first of four big volume class 5 rapids. The first three rapids we ran successfully and then luckily Franz got out of his boat to take a leak. It turns out he chose to take a leak in the last eddy above a massive rapid which then funneled down into the biggest tree-strainer I have ever seen.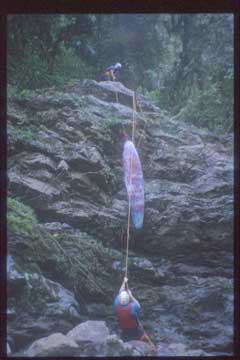 Tree portage
The portage took at least an hour and required using ropes to pull the boats up a vertical wall. From here we had a perfect view of the rapid below. Although the approach appeared harmless with nothing more than fast moving water, there were no eddies as vertical rock walls lined both sides of the river, making it a innocuous looking trap. The vertical walls at the entry of the rapid quickly tapered into a V shape constriction only 25' wide. The gradient and water accelerated without an eddy and at the bottom huge crashing waves smashed into a 15' diameter tree lodged across the river.
The big volume pool-drop rapids continued including one portage around a river wide hole. At the entrance to one big stretch of whitewater in a mini canyon, Franz got out to scout on the slime-covered left wall while John and I got out on a rock on river right to scout. While scouting, the river surged up, grabbed Franz's boat, and sent in careening down river. John and I jumped into our boats and chased Franz's boat downriver. We ran the big rapid we had just barely scouted and continued chasing the boat through two more biggies we had not been able to see. We eventually had the boat but realized the next problem was that we did not have Franz. Looking back upstream at the vertical walls of the canyon we realized there was no way he could walk to us. Apparently he realized the same thing and had jumped into the river a half mile upstream. We caught sight of him swimming down the meat of a big volume rapid and I was able to reach him with the tail of my boat and get him to shore. Franz was pretty shaken up so we took a break.
Just downstream we came to another horizon line in a constricted canyon. The right wall and the left wall were both vertical but a pocket on the left provided a one boat eddy. John got out to scout while Franz and I continued to paddle while facing upstream to avoid getting sucked over the horizon line. John signaled and yelled that the rapid was okay and that we needed to cross the horizon line in the center of the river moving from left to right. Franz peeled off and dropped over the horizon. I waited fifteen seconds and glanced over at John as I gathered speed on the approach to the blind horizon. John was grinning with his fist in the air, which gave me the idea that Franz's line was a good one so I headed to where I saw Franz disappear. As I crossed the horizon I caught site of a huge hole below that I was screaming down into. John's directions were good and my angle brought me into the lower corner of the hole and sent me rodeoing downstream through a half dozen other holes. Franz was in an eddy at the bottom with his camera in his hands as I swept past him. My boat was full of water and I couldn't make the eddy Franz was in so I yelled that I was going to look for a place to dump my boat. It was over 300 meters through vertical walls before I found a rock that I could get out on to dump my boat.
I waited for an hour for Franz and John and when they did not arrive I started to get nervous. I knew something bad had happened and sitting alone on a rock in the middle of a vertical-walled canyon exacerbated my anxieties. I left my boat, and since I couldn't walk upstream, I started to scale the river left wall hoping to catch a glimpse of Franz or John upstream. After another hour I could see Franz coming downriver in his boat. I worked my way to a ledge 40 feet above him until I could yell down to him. He asked if I had seen John. I said no and from the look on his face I knew that what I suspected had become reality. "He's dead" Franz yelled with a look of total grief on his face. The current was sweeping Franz past me so I jumped the 40′ into the river and grabbed the tail of his boat. We both got out of the river at my boat and talked about what had happened. Franz had waited for John to run the last rapid and was watching him through his camera lens. John entered the hole and Franz was set to take his foto as he came out of the backside of the hole. John never emerged. Franz was unsure if John had somehow passed him so he climbed the cliff and looked down into the hole he and I had successfully punched. What had happened in the hole we do not know? He had vanished with no sign of his boat or paddle. With the slim hope of finding him waiting for us downstream we pushed on. The river, which before had seemed like fun big water boating was now absolutely terrifying. We ran a few more big drops and maybe had a portage and then the canyon opened and the Rio Jelache entered on the right. There was no sign of John at this obvious stopping place but with fleeting rays of hope we pushed on.
The river turned east and then came to a horrible class 6 maelstrom. We were crushed mentally and physically wiped out and there was nowhere to camp. Both walls were vertical and we could not return upstream. Franz carefully scouted the right wall and came up with a plan to portage the gear. Using all the webbing, chocks, carabineers and throw ropes we had, Franz laid out a line across the slippery cliff face. We got across the first section of the cliff face with only our sleeping gear and found a nook in the cliff where both of us could lie down. It was late and we ate nothing. Thoughts of John and the events of the day were ringing in my head. I could not sleep and Franz had the same problem. We shared the Valium I had in my medical kit, which was enough to knock both of us out.
Beginning of portage  of class 6 rapid
Day 5
Yesterday we had come 20 km and dropped 160 to 200 meters. From our best guess we were almost done with the whitewater. The canyon wall across from our portage last night was covered with brightly colored Macaws screaming in the early morning hours. Franz and I returned across the cliff face for our boats and then after 3 hours finished phase two of the portage. We put back on and the whitewater started to fizzle out with only one more easy portage around a river wide hole. Suddenly the canyon opened dramatically to reveal a sun filled valley teeming with bird life. The first bird I saw was Peru's national bird called "Cock of the Rock" which is bright orange with an unusual head. The whitewater turned to class 3 and then backed off to class two. After an hour we came to the first people we had seen in days. They had been dropped off by a motorized rig and had cut down Tornillo trees in a side drainage and floated them down to a beach alongside the river. Here they built a raft out of the logs and floated it downstream to Juanjui.
Franz and I continued to paddle and found a good beach camp downstream. We were now in a hurry to get back to civilization but feeling horrible about the news we had to bring to John's family and other friends.

Day 6
We started boating at the crack of dawn and began to pass small patches of farmland carved into the banks of the jungle. We passed the Huaybayacu River and then the village of Dos de Mayo (which I have learned now has a radio phone). From this village there is a motorized dug out canoe that travels to Junajui. We had missed the morning's only boat so we paddled on arriving in the town of Huicungo at 3:30. This town is at the end of the road and here a car can usually be found with service to Juanjui. By river it is another few hours or 31 km to reach the Huallaga then several more hours floating the swift current down to Juanjui. From Juanjui there are flights back to Lima or buses to Tarapoto.
Note: For an introspective story on the loss of a paddling friend see Franz's account at
http://web.cocc.edu/fhelfenstein/huallabamba/huallabamba.html
Useful maps: 14-I Huayabamba, 15-I
Trip summary:
Puente Gevil 1375 meters
Rio Shocol Tributary at Achamal 4 km 1250 meters
Rio Verde tributary 25 km 825 meters
Rio Simachache 20 km 700 meters
Rio Frontera 25 km 550 meters
Rio Huaybayacu 10 km 450 meters
Rio Jelache (Dos de Mayo) 20 km 350 meters
Huicungo 37 km 280 meters
Total 141 km 1095 meters