The Ocobamba is a major tributary of the Yanatile. It flows from the North of the flanks of Nevado Chicon and joins the Yanatile below Quebrada Honda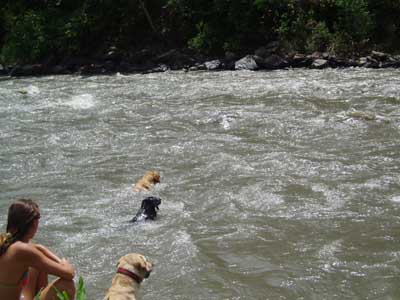 Dogs going for swim Ocobamba put-in
To reach the river you can come from the Sacred Valley and town of Calca or from below from Quillabamba. KM markers along the road are measured in distance from Calca.
We ran the river on October 25, 2005. We camped the night ebfore on a beach on river right below Quebrada Honda. We reached the campsite by taking a side road towards Puente Tinchuay (km 146).
To reach the Ocobamba take out and put in continue downstream to village of Quesquento and follow a side road to a new bridge over the Yantile River. this is the takeout of the lower stretch of river.
To reach put in continue upstream until the confluence with Ocobamba and then drive up the Ocobamba valley. We were short on time and put in at town of Toldeo which is at 1000 meters elevation. the 10 km stretch of river we ran to takeout (875 meters) drop 125 meters in 10 km or averaged 12.5 m/km. It was a class 3 run with 5 km on Ocobamba that had around 600 CFS and then 5 km of bigger water boating on Yanatile with some 3000 CFS.
The road continued above Toledo to town of Ocobamba 24 km upstream at 1500 m of elevation. although I did not see this section of river I assume it was good class 4-5 boating with average of 21 m/km or 105 FPM.
Map Quebrada Honda 2445 series J631